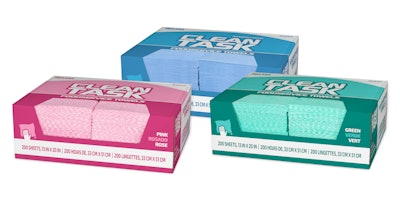 Sellars Absorbent Materials (Milwaukee, WI) has developed a line of durable, absorbent wipers for cleaning and sanitizing in food service applications. The Clean Task line features three products that are color-coded for use in different cleaning zones and are available in light and heavy-duty grades.
Clean Task towels are sturdy so the wipers can be used on a variety of rough and smooth surfaces. The mesh-like towels easily pick up and hold food debris and liquids. In addition, since the towels are a strong, cloth-like material, they can be rinsed multiple times throughout the day before being disposed of.
Clean Task towels are available in pink, green and blue and are conveniently packaged in a quarter-fold format.
The pink and green towels are for light duty cleaning of counters, tabletops, appliances and other surfaces. The blue towels come in a heavy-duty grade that's treated with an antimicrobial to inhibit the growth of stains and odor-causing bacteria.