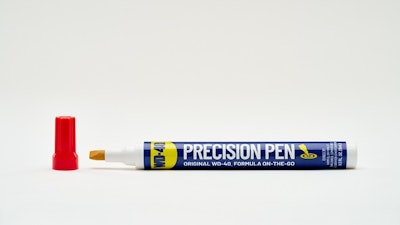 WD-40 Brand (San Diego, CA) introduces its newest product innovation — the WD-40 Precision Pen.
The WD-40 Precision Pen is compact and portable, and engineered to deliver the WD-40 Multi-Use Product — the Original WD-40 Formula — with pinpoint precision. Ideally suited for tight spaces on projects of all sizes, the WD-40 Precision Pen is designed for use at home, on the job, in workshops, or for exploring new frontiers, and is a direct response from feedback received by end users.
WD-40 Brand says the WD-40 Precision Pen offers:
Versatility: with more than 1,000 uses, the trusted Original WD-40 Formula stops squeaks, protects against corrosion, loosens rusted parts, frees sticky mechanisms and drives out moisture.

Pinpoint precision every time: apply the exact amount of product to small areas and tight spaces with ease.

Controlled application: experience an easy, controlled flow of the Original WD-40 Formula thanks to the Precision Pen's easy-to-hold design.

Portable and pocket-sized: the pocket-sized Precision Pen fits perfectly in a tool belt, glovebox, or back pocket for quick fixes anytime, anywhere.

Multi-purpose use: perfect for work, home, DIY projects, and on-the-go repairs, the Precision Pen is an all-in-one solution.
www.wd40.com/products/precision-pen