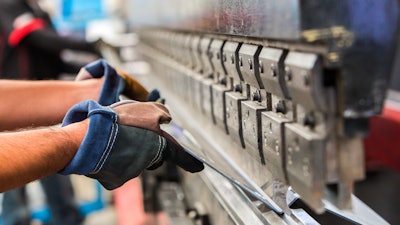 iStock
CLEVELAND — Metalforming companies anticipate an improvement in economic activity in the next three months, according to the February 2023 Precision Metalforming Association Business Conditions Report.
Prepared monthly, the report provides an economic indicator for the next three months of manufacturing, sampling 111 metalforming companies in the United States and Canada.
PMA's February report shows that 18% of metalforming companies predict an increase in general economic activity in the next three months (compared to 11% in January), 63% expect no change in activity (compared to 59% last month) and 19% anticipate a decrease in activity (down from 30% in January).
Metalformers also forecast an improvement in incoming orders, with 38% of survey respondents expecting an increase in incoming orders during the next three months (compared to 25% in January), 40% anticipating no change (compared to 49% last month) and 22% predicting a decrease in orders (compared to 26% in January).
Following four straight months of decline, metalforming companies reported a spike in current average daily shipping levels in February. Thirty percent of respondents reported an increase in shipping levels (compared to 15% in January), 45% reported no change (compared to 42% last month) and 26% reported a decrease (down from 43% in January).
"The latest PMA Business Conditions Report shows that members are more optimistic that the economy is improving; however, the monthly swings between optimism and concern reflected in these reports underscore the volatility of the market," said PMA President David Klotz. "I'm looking forward to hearing more from our members about current market conditions at PMA's Forming Our Future Leadership Conference this week, which will feature speakers on a range of topics that directly impact manufacturers."
Lead times increased slightly in February, with 11% of metalforming companies reporting an increase in lead times (compared to 7% in January). Eight percent of companies had a portion of their workforce on short time or layoff in February (increasing from only 2% in January), while 47% of companies are currently expanding their workforce (compared to 48% last month).