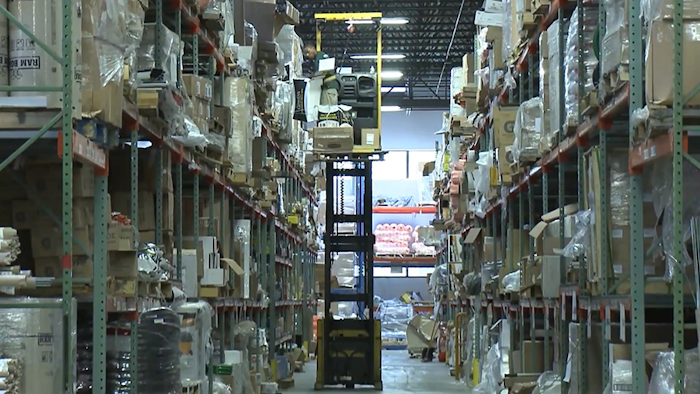 TEMPE, AZ — Economic activity in the manufacturing sector expanded in February, and the overall economy grew for the 106th consecutive month, say the nation's supply executives in the latest Manufacturing ISM Report On Business.
The report was issued Thursday by Timothy R. Fiore, CPSM, C.P.M., Chair of the Institute for Supply Management (ISM) Manufacturing Business Survey Committee:
The February PMI registered 60.8 percent, an increase of 1.7 percentage points from the January reading of 59.1 percent
The New Orders Index registered 64.2 percent, a decrease of 1.2 percentage points from the January reading of 65.4 percent
The Production Index registered 62 percent, a 2.5 percentage point decrease compared to the January reading of 64.5 percent
The Employment Index registered 59.7 percent, an increase of 5.5 percentage points from the January reading of 54.2 percent
The Supplier Deliveries Index registered 61.1 percent, a 2 percentage point increase from the January reading of 59.1 percent
The Inventories Index registered 56.7 percent, an increase of 4.4 percentage points from the January reading of 52.3 percent
The Prices Index registered 74.2 percent in February, a 1.5 percentage point increase from the January reading of 72.7 percent, indicating higher raw materials prices for the 24th consecutive month.
"This indicates growth in manufacturing for the 18th consecutive month at strong levels led by continued expansion in new orders, production activity, employment and inventories, with suppliers continuing to struggle delivering to demand," Fiore said. "The PMI at 60.8 percent is the highest level of expansion seen since May 2004, when it reached 61.4 percent."
September 2017's PMI originally registered at 60.8, but was revised down to 60.2 due to seasonal adjustment factors.
Comments from the panel reflect expanding business conditions, with new orders and production maintaining high levels of expansion; employment expanding at a faster rate to support production; order backlogs expanding at a faster rate; and export orders and imports continuing to grow faster in February. Supplier deliveries continued to slow (improving) at a faster rate. Price increases occurred across most industry sectors. The Customers' Inventories Index indicates levels remain too low. Capital expenditure lead times improved by five days while production material supplier lead times extended four days during the month of February.
Of the 18 manufacturing industries, 15 reported growth in February, in the following order: Printing & Related Support Activities; Primary Metals; Machinery; Computer & Electronic Products; Petroleum & Coal Products; Nonmetallic Mineral Products; Plastics & Rubber Products; Fabricated Metal Products; Chemical Products; Transportation Equipment; Textile Mills; Miscellaneous Manufacturing; Paper Products; Electrical Equipment, Appliances & Components; and Food, Beverage & Tobacco Products. Two industries reported contraction during the period: Apparel, Leather & Allied Products; and Furniture & Related Products.
MANUFACTURING AT A GLANCE
February 2018
Index
Series Index Feb
Series Index Jan
Percentage Point Change
Direction
Rate of Change
Trend* (Months)
PMI
60.8
59.1
+1.7
Growing
Faster
18
New Orders
64.2
65.4
-1.2
Growing
Slower
26
Production
62.0
64.5
-2.5
Growing
Slower
18
Employment
59.7
54.2
+5.5
Growing
Faster
17
Supplier Deliveries
61.1
59.1
+2.0
Slowing
Faster
17
Inventories
56.7
52.3
+4.4
Growing
Faster
2
Customer Inventories
43.7
45.6
-1.9
Too Low
Faster
17
Prices
74.2
72.7
+1.5
Increasing
Faster
24
Backlog of Orders
59.8
56.2
+3.6
Growing
Faster
13
New Export Orders
62.8
59.8
+3.0
Growing
Faster
24
Imports
60.5
58.4
+2.1
Growing
Faster
13
OVERALL ECONOMY
Growing
Faster
106
Manufacturing Sector
Growing
Faster
18
Manufacturing ISM Report On Business data is seasonally adjusted for the New Orders, Production, Employment and Supplier Deliveries Indexes.
*Number of months moving in current direction.
Indexes reflect newly released seasonal adjustment factors.
THE LAST 12 MONTHS
Month
PMI
February 2018
60.8
January 2018
59.1
December 2017
59.3
November 2017
58.2
October 2017
58.7
September 2017
60.2
August 2017
58.8
July 2017
56.3
June 2017
57.8
May 2017
54.9
April 2017
54.8
March 2017
57.2
source:
tradingeconomics.com