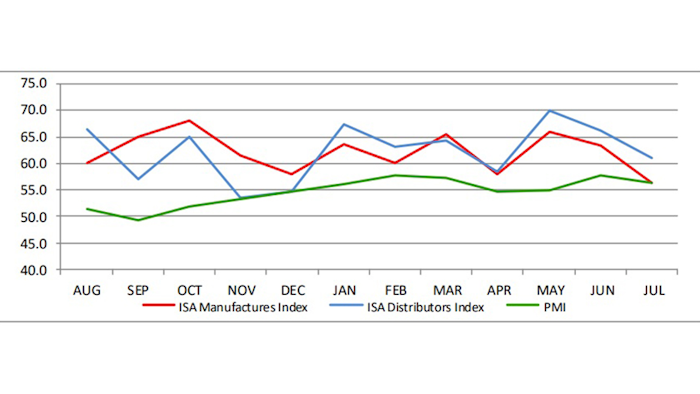 In July, the Industrial Supply Association's Distributor and Manufacturer indexes both fell, corresponding with that month's decline in the Purchasing Managers Index from the Institute of Supply Management.
Following a modest 3.6 and 2.6 drop for the Distributor and Manufacturer indexes from May to June, respectively, both indexes fell faster from June to July. The Distributor index fell 
ISA's Distributor index fell 2.2 points from June to July, following a 3.6-point decline from May to June. The Manufacterer index fell seven points from June to July, following a 2.6-drop from May to June. For both indexes, as well as the PMI, any reading above 50 indicates expansion. Thus, July's readings indicated continued expansion for ISA distributors and manufacturers, although at a slower pace than a month earlier, with a decelleration for a second-straight month.
The distributor and manufacturer indexes both hit their 2017 high in May with readings of 69.9 and 66.0, respectively.
The August PMI jumped 2.5 percentage points from July to a reading of 58.8 — its highest mark since April 2011. That bodes well for both ISA indexes, as both typically follow the PMI trend.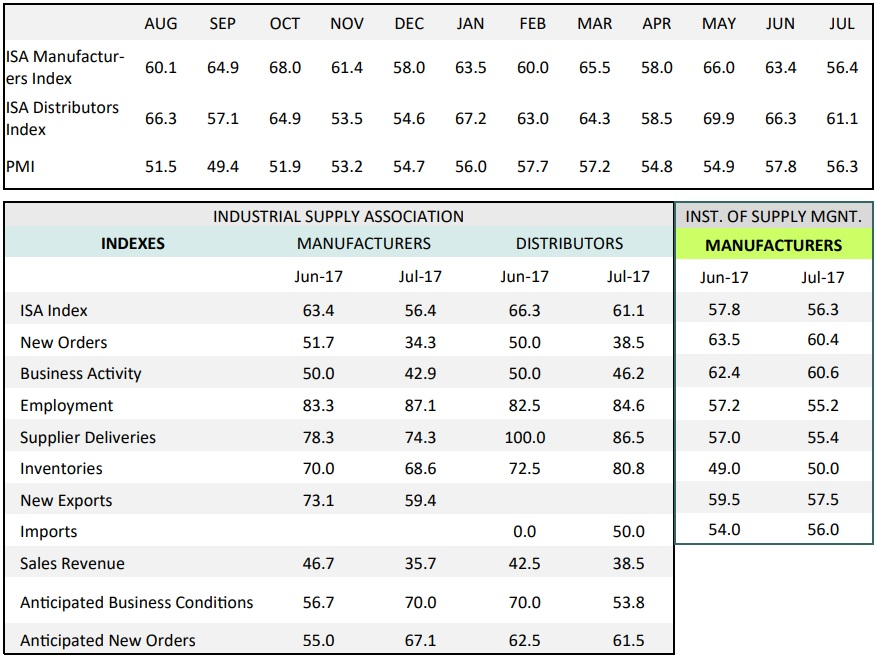 ISA manufacturer comments in the July index included the following:
"Still low digit growth through July but first half of August was solid. Competition is far greater than 5 years ago. Feel 2017 will stay same for rest of year."
"Everything continues to be stagnate. Just don't see any activity to build momentum."
"When does this "herky jerky" type of incoming orders ever begin to take on some sense of a consistent flow? We can't put two good months together and its NOT due to any sense of lack of effort or anything, more over the market, though better and stronger than twelve months ago, seems to be driven (or visa versa) more by media hype than by substance? Just a question and observation, not a factual statement."
"July brought first signs of a summer stumble with a reduction in most all key business indicators."
"We expect things to slow up a bit in July due to vacations. It started off that way with the holiday but that's about all we saw of a temporary slow down. Calls, emails, RFQ's and orders continue to be strong."
"2017 is still a roller coaster from day to day. Still expecting for sales to increase 5% for 2017 compared to 2016."
"July was a rough month, but we are not far off."
Meanwhile, the lone distributor comment was:
"People back from vacations should help. Eclipse time off won't help. We just keep plugging and hoping for the best."