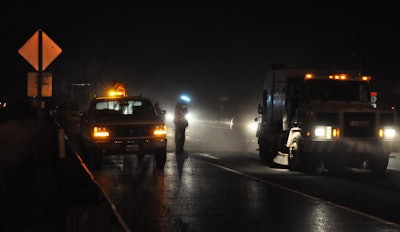 Seattle, WA – ILLUMAGEAR, a Seattle-based company focused on improving individual safety in risky environments, announced the launch of its online store to sell its new Halo Light™ Personal Active Safety System™. The Halo Light, of which the first production units rolled off the assembly line, is designed specifically for a hard hat, lighting the entire task area without adjustment. The Halo Light is portable and personal, illuminating the task area without shadows regardless of where the worker moves. The Halo Light is ideally suited for a variety of markets including construction, DOTs, mining, oil and gas exploration, warehouse, and any other industry in which safety and illumination are of concern. The Halo Light features:
A 360° halo light active illumination system
Personally visible up to ¼ mile away in all directions
Fully illuminates the task area out to the visual periphery
Eliminates shadows no matter where you move
Patented tension spring-mounting system connects securely to any hardhat
Easy single button functionality
Four light modes: Halo, Hi-Alert, Task, and Dim
International Protection (IP) Rating of 67 to protect against dust, dirt, and high-pressure water
Rechargeable battery lasts 12 hours on full power
Breakaway quick-release battery cord
Built to last in tough construction environments
Lightweight
One year warranty
For more information, visit www.illumagear.com.