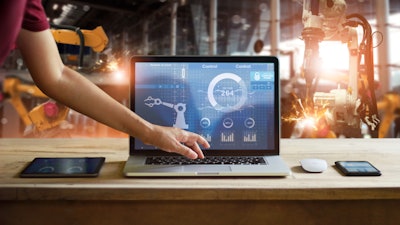 Is automation the future of manufacturing? As if there was ever any doubt, the past year affirmed that more manufacturers than ever before are turning to automation to accelerate the production cycle, reduce costs, and increase the bottom line.
According to the ABI Research 2022 Trend Report, a total of 45,000 collaborative robots and 452,000 mobile robots were shipped over the past year, increases of 65 percent and 51 percent respectively over 2021. That's on top of the latest data from World Robotics, which shows a record 2.7 million industrial robots now operating in factories around the world.
With the global industrial automation market expected to grow at a compound annual growth rate of nearly 10 percent over the next seven years, reaching $395 billion by 2029, it's safe to assume one trend which emerged in 2022 will accelerate in the year ahead: Recognizing that the legacy systems on which they began their automation journeys cost too much, in terms of overhead expense and the demands placed on IT resources, expect manufacturers to migrate their automation estates to next-generation automation platforms in order to lower operational costs, leverage increased capabilities and features, and enable scale.
Looking Up
The emergence of automation in the cloud will also play a key role in the year ahead. While there has been some hesitancy to move beyond on-premise platforms, particularly on the part of larger manufacturers, look for more companies to make the transition to the cloud and web-based interfaces as they realize the benefits they offer. These include greater agility and business scalability, faster deployment, easy cloud management, and resilience.
The leading beneficiaries of this shift to the cloud are likely to be Microsoft and Automation Anywhere, both of which offer cloud-native, low-code intelligent automation platforms. While unveiled in 2019, Microsoft Power Automate has matured and now provides a solution that is simply better than much of the competition. Capable of delivering automation at scale due to its ease of use and everyone's familiarity with Microsoft products, Power Automate offers increased compatibility with the Microsoft stack that the vast majority of manufacturers already employ.
Cloud-ready and a true intelligent automation platform with an AI Builder capability and AI-enhanced workflows, Power Automate also positions manufacturers to expand their automation practice beyond RPA to the entire Power Platform. Using Power Virtual Agent, for example, process automation can be broadened to business applications with PowerApps and intelligent virtual agents.
Although the pendulum has swung in favor of cloud-native platforms, it's too soon to count out the strength and market footprint of UiPath. Traditionally viewed as the automation market leader, UiPath continues to boast a strong platform and technology, albeit one that is expensive and client-side.
The same can be said of Blue Prism, another legacy RPA leader with a strong platform. Technically complex, but favored by highly skilled IT departments because of the freedom and flexibility it provides, Blue Prism is not particularly accessible to the average business user. With indications pointing to significant investments in research and design to enhance the product, it will be interesting to see what Blue Prism delivers in 2023.
All of this suggests that automation in manufacturing will only get bigger in the year ahead. Digital twins, already widely used within the sector, will see increased application as more manufacturers recognize the value in maintaining a digital representation of a process or physical object that can be updated with real-time data to enhance improvement efforts. So too will artificial intelligence (AI) and machine learning (ML), both of which will grow in terms of importance as manufacturers seek to automate more complex, end-to-end processes.
With a focus on improving overall efficiency while freeing up human workers to handle more complex tasks, look for manufacturers to make increased use of collaborative robots (cobots) and drones in 2023. Designed to work alongside humans, cobots are proving to be particularly effective at tasks such as quality control and assembly line work. They also can be programmed to work 24/7, which can be instrumental in increasing production levels without a loss in quality. Drones, on the other hand, are being employed in inventory management and product delivery.
The wild card in 2023 will be the anticipated global recession analysts predict will hit early in the New Year. If a recession does occur, look for the exponential growth automation is already experiencing to be hyper-charged as manufacturers try to deal with a contracted workforce brought on by forced cost reductions.
Irina Lunin is the Vice President of Research & Development at Blueprint Software Systems. For more information, visit https://www.blueprintsys.com/out