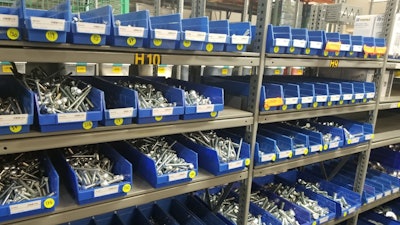 OptiCrib
When it comes to inventory, industrial companies do their best. They often turn to vending machines as a solution to their product tracking woes, but it's not always a one-size-fits-all opportunity.
Bringing a new approach to the B2B inventory management game is OptiCrib, a completely automated inventory management system for a company's storeroom, warehouse, outdoor trailer, or supply closet. OptiCrib uses multiple cameras and other proprietary sensors to track every item taken from its shelves – enabling "grab-and-go" technology without the need for RFID tags.
We visited with Mike DeVoney, a distribution industry veteran and the executive vice president of OptiCrib, to learn more about why this technology is sorely needed in industrial facilities.
ID: Tell us why you believe that the traditional vending machine isn't working for many distributors.
Mike DeVoney: That's a great question. Traditional vending machines are both expensive to buy and expensive to operate. Most distributors use vending as a lost leader for larger books of business; when they analyze their cost to serve versus vending revenue alone, most will find out they're underwater.
Vending machines are also limited in the size and quantity of products they can manage. OptiCrib's "just-walk-out" technology allows us to vend everything from full pallets of goods down to individual o-rings in the same environment, and the only limit on quantity stocked is available shelving or pallet rack space. Our product competes in its smallest application with point-of-use vending solutions; it also scales up to full-sized warehouse installations.
We like to say we can turn your warehouse into a vending machine … delivering the benefits without the headaches.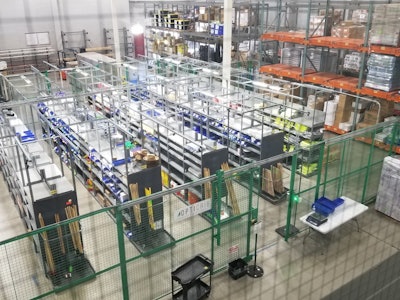 ID: Give us a basic rundown on some of your automated technology – such as the general store – and the benefits it offers via a multi-layered approach to accuracy.
Mike DeVoney: The OptiCrib General Store was designed to meet the indirect materials management needs of a small to medium sized manufacturing business — fewer than 200 employees per shift — that might not already have a fully managed storeroom process. The General Store is a turnkey storeroom installation that delivers inventory accuracy and cost-accounting reliability through 24 hour per day automated operation. The base unit is 20 feet by 30 feet and holds 60 shelving units — up to 2,500 SKU in typical shelf goods. The base unit can be augmented by an optional OptiCrib pallet racking system. General Stores can also be added together as modules to create additional warehouse space. We also develop custom warehouse solutions.
I like your phrase "multi-layered approach to accuracy." The OptiCrib is the first product in our industry to approach automated materials management with an Internet of Things sensor fusion strategy. We have two sensor modalities and five key inputs that are constantly monitored by an artificially intelligent machine learning software system. The first modality is computer vision, which monitors shopper behavior, maps hands to product locations, and identifies products that have been removed from the shelf. Our primary technology is generally referred to as "CV-AI:" computer vision artificial intelligence. The "OptiCrib" brand name refers to the optical part of our technology.
We think of the optical side as providing super high user accountability. The computer vision system tracks the primary shopper; that's whoever presented a valid entry ID, as well as anyone working with the primary shopper. If an OptiCrib is rated for 20 shoppers, it means that there can be 20 separate individual shopping sessions or any combination of shopping sessions that add up to 20 people. If four groups of five shoppers are pulling products simultaneously our system never loses track of (1) who's working with whom and (2) what the individuals are taking with them when they leave the OptiCrib. Before exiting, the primary shopper must confirm proper cost-accounting information to close out their session. We think that's an extraordinary level of accountability.
The second modality is a relatively simple weight sensing device installed in every horizontal stock keeping location. We currently offer different sized shelf scales, drawer scales, floor scales, and pallet scales in our basic product line. Weight sensors help confirm the location of the product(s) taken and the quantity of each item taken. When these inputs are blended with the computer vision inputs we are able to thoroughly automate the shopping experience with a very high level of accuracy.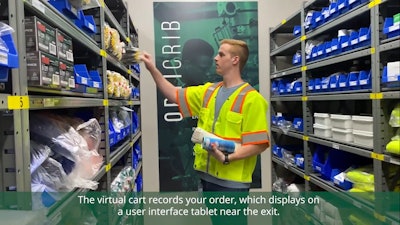 ID: What factors into the ROI calculation when it comes to OptiCrib's concept of "grab and go MRO?"
Mike DeVoney: The ROI case for CV-AI warehousing revolves around our twin competencies of almost perfect inventory accuracy and shopper accountability. Customers vary on their business case needs, but one of the big ones is reduced inventory shrinkage. We have suppliers with consignment programs who are losing upwards of 20% of their inventory investment per year – which creates problems around reconciling counts with the customer and billing out the loss.
Our manufacturing customers also see big benefits around increased wrench time. Maintenance staff can spend up to half their work day gathering parts necessary to complete a work order. OptiCrib shoppers don't have to queue up and wait for a storekeeper to help them – reduced wait time means increased wrench time – and inventory reliability means if we show a quantity on hand we can rely on it being there to execute the work.
The OptiCrib provides 24/7 operation with nearly flawless performance, meaning inventory doesn't inadvertently go missing during maintenance emergencies on third shift. Our manufacturing customers can better avoid line shutdowns and stock-outs without having to staff their storerooms and warehouses on a full-time basis.
The biggest cost differentiator between our solution and traditional vending is that our process reduces the supplier's operational expense below that of the alternatives, including barcode bin replenishment programs. When accounting for the number of warehouse touches and a consistent cost driver per touch, the supplier's cost to replenish one OptiCrib item is about $4.00. For barcode programs, or traditional "VMI," the cost is closer to $7 per replenishment. RFID is $12, and vending machines are over $16. And because we manage higher quantities per SKU with no re-packing or labeling requirements, not only are the replenishments lower cost, but there are fewer replenishments required.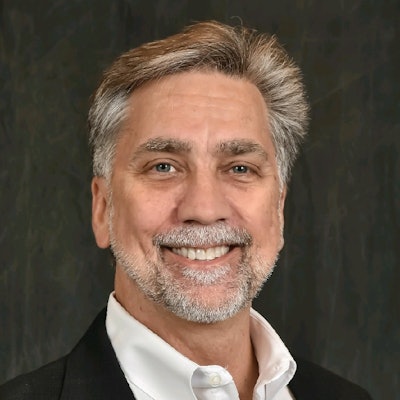 ID: When you talk to existing and prospective customers, what problems are they looking to solve when it comes to inventory? Will that drive future development for OptiCrib?
Mike DeVoney: One thing we hear throughout the distribution industry is that the post-COVID economy has left us with a shrinking pool of warehouse labor. The best label we've heard for this situation is labor chaos. Low unemployment and higher wages in other sectors leave distributors with fewer options than just a few years ago.

Warehouse automation is the future, and we think our approach will be a big part of the mix. Robotics and conveyor systems are really only practical for large distribution centers; we believe our passive solution is perfect for smaller warehouse automation requirements.

If our system can provide the accuracy of a full-time tended storeroom with only part-time effort, the payback equations write themselves.
Another big reason our solution is winning converts is that there are no moving parts to maintain. Cameras and weight sensors are designed to be stationary, and therefore are less likely to breakdown than a mechanical robot or vending machine.
With a reduced maintenance requirement and great accuracy outcomes, our biggest obstacle to success has been our need to do all of our graphic image processing with on-premises servers. This year, we have been able to reduce the amount of on-premises processing by going with a cloud-based processing model. By doing this, we were able to reduce the amount of processing time required and the amount of equipment deployed per site, all while achieving a lower cost per installation.
For more information on OptiCrib, visit www.opticrib.com or contact Mike DeVoney at mdevoney@opticrib.com.