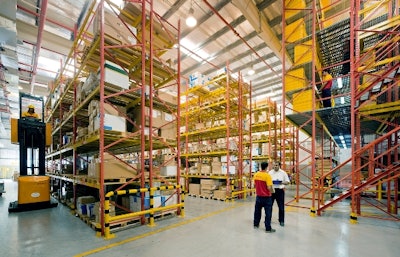 The warehouse industry is never a static player in the order fulfillment process. As customer demand rises, distribution logistics have to be changed to conquer the challenges created by fluctuating product markets and shipping schedules. Warehouse operations are adopting the latest innovations to keep up and stay competitive in such a demanding economic environment. Management trends are being evaluated, streamlined and consolidated to develop efficient processes designed to create the most exceptional customer experience. From adopting automation technologies to creating multichannel solutions, the five following trends speak of just a few of the initiatives that warehouse management operators have explored in 2015.
1. Increased Protocols for Product Recalls and Warehouse Employee Safety
The number of product recalls over the past few years has been staggering. Warehouses are deemed responsible for product quality complaints and are held accountable for tracking tainted distributed products. Increased protocols regarding product recall procedures and compliancy for auditing agencies require accurate databases to handle queries. Warehouses must also institute an instant product notification process to inform customers of the recalled products.
Another aspect of warehouse accountability involves an increase in safety procedures for warehouse staff to prevent accidents. Forklift motion sensors, pedestrian motion sensors, and automated gate systems at crossing points are becoming instituted. Safety equipment adoption also involves the use of vision-guided tow vehicles in place of forklifts to lessen the chances of damaging products while increasing the amount of safety around moving warehouse vehicles.
2. More Acceptance of Third-Party Logistic Solutions
Third-party outsourcing logistic solutions erupted into the market over a decade ago, as a warehouse manager couldn't turn around without finding a host of third-party logistics provider (3PL) companies offering their business cards. While this industry has dwindled in recent years as smaller 3PL companies are being devoured by larger competitors, their services are growing and becoming more sophisticated. Intermodal services are starting to be the norm, as these companies are offering a more full-service alternative. Warehouse managers are taking full advantage of this growing trend, shipping products to customers and stores at faster speeds and lower prices.
3. Mobility Devices for More Accurate Order and Shipping Fulfillment
We live in the age of mobility, and warehouse management has taken notice of this budding technology trend. Operators are using barcode scanners, RFID readers and other types of handheld devices to better streamline the shipping and inventory process. Several warehouse areas where mobility can benefit operations and processes include:
Inbound Products Processing: Mobile devices can provide real-time schedule updates, product shipment scanning, and cross-docking solutions.
Product Inventory Management: Warehouse operators are recognizing the benefits of mobile devices that can provide accurate inventory management information, cycle count orders and materials allocation handling.
Outbound Products Processing: Mobile devices can be used to view directed pick lists, dispatch plan tasks, and shipment tracking data.
4. Unique Warehouse Management Systems for Multichannel Solutions
Companies are no longer relying on just their own brick-and-mortar stores to entice customers with their products. E-commerce retailers are using multiple online buying channels to reach customers and fulfill orders. These companies require more scalable warehouse management solutions to ship products in the fastest time possible along the shortest shipping routes. An efficient warehouse management system (WMS) application has become vital for warehouses to stay on track with their inventory. This WMS can provide the right functionality to organize the fulfillment processes for multiple warehouses, oversee the distribution processes for drop ship partners, and help stores improve their overall product delivery times.
5. Automation Improvements for Enhanced Operational Processes
Another popular trend this year has been the initiative of implementing more automated technology into warehouse management. Operators are evaluating operational processes to determine the best areas where tasks can be automated with the use of automation, and then moving warehouse personnel to other key areas where their skills and talent can lessen the burden of fulfillment processes. Mobility technologies, data systems, conveyor belts and other automation and technology improvements can change lead times and increase delivery satisfaction.
Warehouse management processes are becoming more complicated, and require increased strategic solutions that allow for efficient operations. The above trends are being adopted and refined to meet the growing logistical challenges. In this changing industry, it is also showing the outdated and slow processes that need to be addressed for companies to survive and thrive against competitors. Order fulfillment and distribution logistics can no longer be ignored or placed on the back burner for companies. Operational obstacles must become addressed in a timely manner for solutions to be effective.
Denny Hammack is the current President of Patterson Pope. He has a background in storage that spans more than 20 years. Patterson Pope is the industry leader in storage systems and shelving solutions.