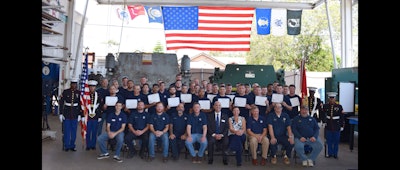 Data suggests there is a large manufacturing skills gap that continues to grow and will leave millions of jobs unfulfilled by 2025. Others suggest the data is misleading and that the "gap" is an inflated myth. But when I ask almost any industrial distribution company or association executive about the state of hiring across the market, they say it's a rough time for recruiting, and has been for several years.
Industrial Supply Association president and CEO Jeff Hughes told me at April's ISA convention that talent recruitment in the industrial supply sector is "at a tipping point."
In Industrial Distribution's 2016 Survey of Operations, conducted this past March, more than 39 percent of respondents said they are typically unable to find suitable job applicants for their company, a 4.4 percentage point increase over 2015.
While distributors and manufacturers are doing their best to engage millennials to funnel new, young talent into the industry, considerable efforts are also being made to recruit another, previously untapped resource: military veterans.
One of those efforts is a nonprofit school called Workshops for Warriors (WFW), founded in 2008 by Hernàn Luis y Prado, a U.S. Navy officer with combat tours in Afghanistan and Iraq. Through private donations, WFW provides industry training, nationally recognized credentials, apprenticeships and help with job placement into advanced manufacturing careers — at no cost to veterans. It is the only school in the U.S. that offers such a free education to veterans.
San Diego-based WFW provides veterans with free courses and training on the latest technology to obtain certifications in welding, machining, machinery repair and fabrication. It teaches and certifies students to nationally recognized standards of the American Welding Society, National Institute for Metalworking Skills (NIMS), Mastercam University and SolidWorks.
Luis y Prado promoted WFW at ISA convention's general session, where he said the organization's biggest challenge is with reliable funding. Its San Diego facility incurs costs of $200,000 per month during each 16-week semester, with the cost of training each student at approximately $12,000 per semester. With no government funding, it's up to sponsors and private donations to keep WFW going strong.
Luis y Prado and WFW ran a donation campaign at ISA, where the group was able to raise its goal of $25,000 over the 3-day event.
I spoke with Luis y Prado on the ISA expo floor during the convention, where he commented on what it was like to have a convention platform to address a large audience of industrial executives.
"It's tremendous. It gives us access to people who are really interested in veterans and helping that sector, which this organization services," Luis y Prado said. "They (ISA leadership) were very, very helpful and we appreciate it. This was our first time here, and we're already excited to be here next year. Going forward, we're excited about placing veterans within ISA. What I love about ISA is so many members here understood the need to get a nationally viable training pipeline. I think everyone here gets it better than any other trade association I've been to."
This year, WFW honored 46 spring semester graduates with a ceremony in April, including two who were acknowledged for achieving 14 certificates during the term.
"We're extremely proud of these men and women not for only what they did to serve our country, but for having the passion, drive and dedication to move forward and obtain the education needed to pursue a new career in the manufacturing space," Luis y Prado said.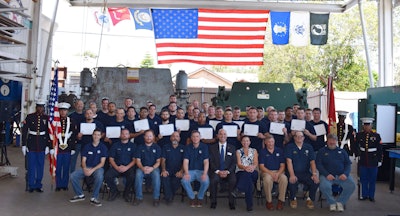 Summer classes at WFW began earlier in May To learn about enrollment or donating to help support the program and its mission, visit https://workshopsforwarriors.org.
Here's a video overview of Workshops for Warriors:
And here's a video look at WFW's spring graduation.