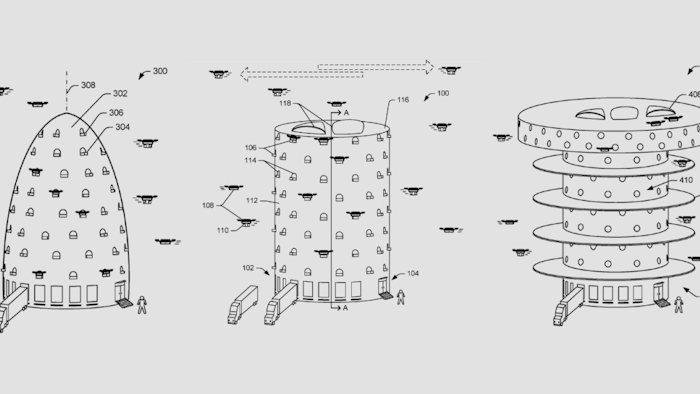 Amazon is reportedly considering innovative ways to facilitate drone-enabled package delivery even in densely populated urban areas.
The e-retail giant filed a patent application for a "multi-level fulfillment center," according to CNET.
The filing features an illustration of a tall, circular building with delivery truck loading docks at ground level and dozens of window-like spaces — capable of accommodating delivery drones — on the upper levels. Resembling a beehive, the drone tower illustrations show the facilities could range from four-to-nine stories tall.

The proposed warehouse would be starkly different than conventional e-commerce warehouses, which are often sprawling, single-level complexes located in suburban or rural areas due to space and financial constraints in more populated areas.
'Fulfillment centers are typically large-volume single-floor warehouse buildings used to temporarily store items prior to shipment to customers," says Amazon's patent filed with the U.S. Patent & Trademark Office. "Often, due to their large footprint, these buildings are located on the outskirts of cities…(and) are not convenience for deliveries into cities…"
The facility, if constructed, would require a smaller real estate footprint and could allow Amazon to move its forthcoming drone system closer to its urban customer base.
Other Amazon patent filings disclosed this week included plans for drone performance and noise control.
The filing would join considerably more far-out Amazon concepts to receive patents from the U.S. Patent and Trademark Office in recent months, including designs for an airborne warehouse and a subterranean tunnel system.