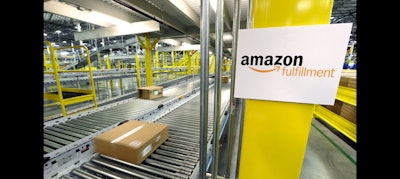 Amazon announced last week that millions of products will be available for rapid delivery this holiday season — even though the e-retail giant isn't handling the shipping.
The company said that its Seller Fulfilled Prime program already made more than 6 million new items available to Amazon Prime members — who pay a subscription fee in order to receive free shipping in as little as a day — in the U.S., U.K., France, Germany and Japan.
The program applies to third-party companies who sell on Amazon's marketplace. They are eligible to market their products as eligible for Prime delivery provided they meet strict delivery and customer service standards.
"We're dedicated to making the fulfillment technology that Amazon develops available to sellers," Amazon Marketplace vice president Peter Faricy said in a statement.
Bloomberg, however, reported that the program is an easy way to add warehouse and delivery capacity to Amazon's operations — and an indication that the company struggles to keep up with customer demand for more products delivered at faster speeds.
The company is building more than 15 new distribution centers, and the costs of new construction and capacity problems helped erode its profits for the third quarter of the year, Bloomberg noted.
Amazon officials predicted record-setting annual sales from its third-party sellers heading into next week's Cyber Monday -- and touted the ability of those companies to store and ship their products using the Fulfillment by Amazon service.
"The FBA service and Seller Fulfilled Prime program are the greatest opportunities in e-commerce for sellers to easily reach loyal Prime members and expand their business," Faricy said. "We are proud that we are empowering so many retailers to grow their business, many of them small businesses and entrepreneurs."