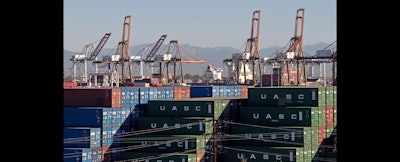 The growth of e-commerce may be revolutionizing how retailers are organizing their supply chains, but the shipping industry evidently has yet to catch up.
The Wall Street Journal notes that ports, railroads and trucking companies were long accustomed to heavier cargo loads in late summer and fall as stores crammed their shelves in anticipation of the holiday shopping season.
That plateau, however, did not appear in 2015 and appears unlikely to do so in 2016.
Analysts attributed the shifting patterns to a greater emphasis among retailers on fulfilling online orders. Instead of focusing on store shelves, the paper reports that companies are keeping warehouses stocked in order to quickly get products to e-shoppers.
Shippers, meanwhile, are paying a price for their failure to adjust.
Some ports spent billions to expand shipping lanes or install new equipment only to see flatlining or falling imports during what should be peak season.
Freight rail carloads in the U.S. slipped for the second consecutive July, according to the Association of American Railroads, while the nation's trucking industry is currently plagued by excess cargo capacity — a trend that led to thousands of idled semi-trucks.
Some observers speculated that the proliferation of online shopping would increase imports later in the holiday season, but those shipments could come by air instead of by boat, train or truck.
"It may be the new normal," Fred Otterbein of First Coast Logistics in Savannah, GA, told the Journal.