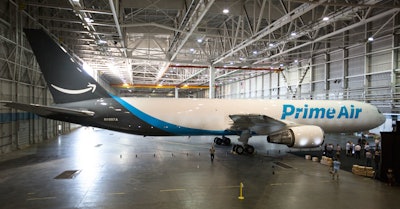 Amazon recently unveiled plans to build a $1.5 billion air cargo hub at the Northern Kentucky airport to accommodate its growing fleet of Prime delivery jets. Similar to how Amazon initially developed Amazon Web Services to meet its own cloud needs and then offered it to the public, this move may only be the tip of the iceberg, first addressing its own fulfillment/logistics needs, but easily extensible to future ecosystem players in the supply chain.
I spoke with Roei Ganzarski, CEO of supply chain software optimization provider BoldIQ, to discuss what Amazon's air hub means for its internal supply chain, the ramifications for major logistics providers, and what's next for Amazon in this area. Ganzarski is also former 13-year Boeing executive. Here's our conversation: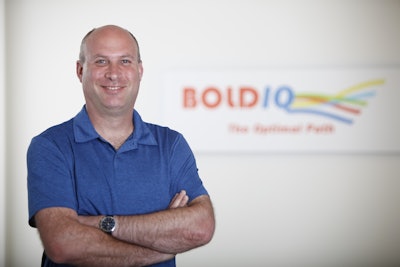 ID: How would you compare how Amazon developed Amazon Web Services to how it is developing its own Prime air delivery?
Roei Ganzarski: I, of course, am in no position to speak for Amazon or why they do things. With that said, as an outside observer, AWS was initially set up to handle all of Amazon's own internal needs. When they saw the power, quality, and potential of what they had for their own needs, they then offered it externally so that others could benefit as well. This is actually very logical and other companies have gone through the same roadmap. Amazon has now established its first aviation cargo hub to handle its own needs. It would not be a stretch to envision a not too distant future in which Amazon sees the power, quality, and potential of what they have, and offer it externally to any and all companies with cargo needs.
ID: Would you say geography is the main driver behind Amazon picking the Cincinnati/Northern Kentucky Airport for its air cargo hub? (centrally located between a handful of regional cities like Cincinnati, Columbus, Louisville, Indianapolis; short flights to/from Chicago, Cleveland, Pittsburgh, St. Louis, Atlanta, Philadelphia, etc.)
Roei Ganzarski: Geography, airspace and ground space and cost are key factors. When setting up a hub of this size, with potential growth projections, an airport that is conveniently located to fly short and long distances is a plus. But that is not all. It needs to be easily accessible both by air (an uncongested airspace) and by ground (so that trucks and vans can easily and quickly access the hub). And, of course, having it be affordable is very important. Bottom line, this location makes perfect sense as you would not expect to see this type of setup in a popular, crowded, major hub. At least not initially for internal use.
ID: Do you see this as being Amazon's only U.S. air cargo hub for a while, or do you envision them establishing others – perhaps one on the west coast?
Roei Ganzarski: I personally believe we will see Amazon opening a similar hub somewhere in Asia. With the amount of cargo they ship from Asia, it would not surprise me to see them setting up their own cargo operations there. Perhaps China, Vietnam or another key manufacturing arena. Then, I would expect additional hubs to be setup across the U.S. and Asia followed by Europe and other regions as they grow.
ID: Overall, this air cargo may be just the next step in what seems to be Amazon's overall goal of having complete management of its supply chain logistics and becoming independent from third party services. If that is indeed their goal, what are the ramifications for those other major logistics providers? (UPS, FedEx, etc.)
Roei Ganzarski: When one of the largest movers of goods (Amazon) decides to move transportation and delivery in-house vs outsourced to other carriers (UPS, FedEx, USPS, DHL, etc), it always impacts those carriers. When you project into the not-too-distant future, in which Amazon may in fact compete with these very same carriers, this becomes a real challenge the carriers have to start planning for. They can no longer 'rest on the laurels' of their previous success. They will have to look for ways to provide more value to their customers. More reliability, more speed, more convenience, all at a lower price and cost.
ID: What kinds of companies or service providers could benefit from Amazon taking over its supply chain? (drone makers, autonomous truck makers, retailers, freight logistics technology providers, etc.)
Roei Ganzarski: First and foremost, anyone shipping packages will benefit. Shippers will now have another great option to select from when shipping their packages and goods. Moreover, this new entrant will force moves toward higher levels of efficiency at lower costs at the other carriers as well. Thus, shippers (be it companies or consumers) will benefit. Naturally, anyone supporting Amazon in their endeavors will most likely gain as well. Manufacturers of airplanes (Boeing got the 767 deal), trucks, drones, pallets, dollies, loading equipment, cargo tracking, uniform makers…and the list goes on.
ID: How do you see this development by Amazon impacting other major companies like Alibaba, Walmart or Home Depot?
Roei Ganzarski: Innovative visionary companies drive growth and progress in their own industries and in industries around them. Back in the day, Wal-Mart did some amazing first-of-its-kind revolutionary things from how they managed stock in their warehouses and stores vis-a-vis their suppliers, to using jets to efficiently move management around. Many then followed suit. Now Wal-Mart is the one following Amazon. For example, Wal-Mart is now trying to 'one up' Amazon on two-day shipping and offering it for free with no memberships fees. This is just a small sample of what is yet to come. These companies are creating an environment ripe for innovation, convenience, higher value and service levels, where it was once not possible.
Roei Ganzarski is president and CEO of BoldIQ. He is responsible for the overall growth and business of the company as well as day-to-day operations, engineering and development. Prior to joining BoldIQ, he was with the Boeing family of companies for 13 years in continuously increasing roles of responsibility. His last role at Boeing was Chief Customer Officer for Boeing's Flight Services division, where he led all worldwide customer and market facing organizations and was responsible for revenue growth and customer service.