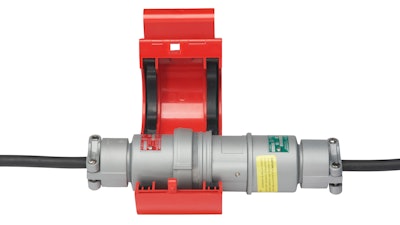 To help safeguard employees from electrocution, Emerson (Rosemont, IL) has launched its Appleton Powertite Lock Collar, a device that fastens over plug and connector connections and is secured with a padlock, preventing unauthorized personnel from disconnecting the cable connection once in place. Since only qualified and authorized electricians can access these plug and connector connections, the Powertite Lock Collar reduces companies' exposure to risk and liabilities from injury or death, and increases overall safety on sites.
Electrical accidents primarily occur because of negligence or unmonitored working conditions. For example, a welder working in a small, compact and cluttered environment may want to move a heavy cable out of their way. Despite knowing the safety code, the welder may not wait for an electrician to come, and will take it upon themselves to disconnect and move the cable. This is extremely dangerous since disconnecting an energized cable can expose the welder to arc flash or electrical shock. Painful, long-lasting injuries or, worse, death, can be prevented by using the Powertite Lock Collar.
Appleton Powertite Lock Collars fit both the 60 Amp and 100 Amp versions of the Appleton Powertite pin-and-sleeve plugs and connectors, as well as similar models from Crouse-Hinds. Its rugged, thick resin construction withstands extreme environments and punishing handling. The collar works with either the provided keyed padlock or all standard lock-out padlocks, such as American Lock from MasterLock.