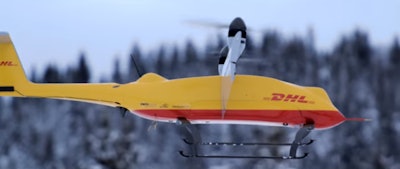 DHL this week touted the results of a three-month trial of its latest Parcelcopter, which autonomously loaded and unloaded dozens of packages from a German border town earlier this year.
The successful integration of the Parcelcopter — a small delivery helicopter drone — into DHL's supply chain was a first for the parcel delivery industry, the German company said.
Between January and March, customers in the small town of Reit im Winkl were invited to ship their packages via the Parcelcopter, and the vehicle completed 130 automatic loading and offloading cycles.
After customers placed their packages into DHL's Skyport — a boxy drop-off shed — the small aircraft would land on a platform beneath the Skyport's rooftop doors. The packages were then automatically loaded into the hold of the Parcelcopter, which then flew with the help of a remote DHL operator to a nearby station.
The journey, DHL said, took eight minutes instead of the 30 minutes that the same trek would take in a car.
"With this combination of fully automated loading and unloading as well as an increased transport load and range of our Parcelcopter, we have achieved a level of technical and procedural maturity to eventually allow for field trials in urban areas as well," DHL Group's Jürgen Gerdes said in a statement.
The third-generation Parcelcopter, DHL said, successfully handled heavier loads and longer distances despite frequently difficult geographical and weather-related conditions.
DHL is one of several parcel carriers and retailers developing drones in an effort to curb the expensive final miles of shipments to customers' homes. Amazon.com previously indicated that its Prime Air project would be ready as soon as U.S. regulators clear delivery drones for commercial use.