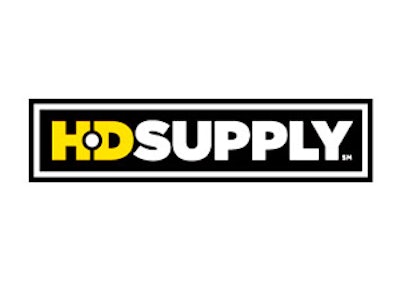 HD Supply, No. 4 on Industrial Distribution's 2014 Big 50 List, reported its 2014 fourth quarter and full-year financials on Tuesday.
The company reported fourth quarter revenues of $2.01 billion, up 7.2 year-over-year from Q4 2013. HD Supply had a net loss for the quarter of $93 million, compared to a $66 million loss in Q4 2013. The Q4 net loss included a $106 million loss on extinguishment and modification of debt. Net loss for the fourth quarter of fiscal 2013 was $66 million, which included a $12 million restructuring charge
In Q3 2014, the company's sales were $2.5 billion and net income was $60 million.
Net sales for November, December and January were $648 million, $587 million, and $770 million, respectively. Preliminary Net sales in February were $630 million.
"February sales were impacted by persistent winter weather conditions resulting in certain branch and distribution center closures across the country in the second half of the month," said Joe DeAngelo, HD Supply CEO. "Given continued adverse weather in March, we have yet to see improvement in our construction related businesses, but we will continue to focus on controllable execution as we enter our spring selling season."
For the full year, the company reported a sales increase of 8 percent over 2013 to $9 billion. HD Supply had a full year net income of $3 million, compared to a net loss of $218 million in 2013.
"I am very pleased with our solid 2014 performance," added DeAngelo. "Despite a challenging and uncertain market environment, we remain focused on controllable execution to deliver profitable growth in excess of our markets."
In January, HD Supply completed the sale of all its assets of its Hardware Solutions business to the Home Depot and received cash proceeds of an estimated $198 million.
For the current quarter, HD Supply forecasts revenue of $2.18 to $2.23 billion, below Reuters estimates $2.26 billion.
Business segments
HD Supply's Waterworks segment had Q4 sales of $516 million, up 10 percent year-over-year. Full year sales increased 9 percent to $2.4 billion.
The Power Solutions segment had Q4 sales of $462 million, up 2 percent YOY. Full year sales increased 4 percent to $1.9 billion.
Construction & Industrial - White Cap Q4 sales were $1.5 billion, up 15 percent YOY. Full year sales increased 14 percent to $337 million.