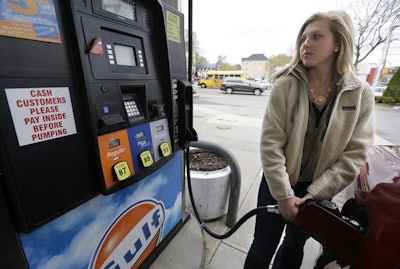 Faulty equipment at a northwestern Indiana oil refinery jolted gas prices throughout the Midwest in recent days.
BP shut down the largest crude unit at its Whiting refinery after discovering leaking tubes.
The refinery, located just south of Chicago, is the largest in the Midwest and the seventh-largest nationally. The shutdown could last a month and potentially remove of up 240,000 barrels of crude production per day from the regional market during peak driving season.
As a result, wholesale prices in Chicago shot up to levels not seen since 2013, and drivers from Michigan to Oklahoma are starting to feel the effects.
"It's such an important refinery smack in the middle of the Midwest," analyst Phil Flynn told Bloomberg. "It's like dropping a bomb in Chicago and watching the shockwaves ripple out to the rest of the country."
According to GasBuddy.com, the most affected states are Michigan, Indiana, Ohio and Illinois, but others, including Minnesota and Wisconsin, also saw increases.
By contrast, the shutdown is keeping crude that would ordinarily be shipped from Canada to Whiting north of the border, where inventories are already high.
Earlier this week, the Western Canada Select crude index fell to $19.50 below the West Texas Intermediate, the benchmark index for the U.S.