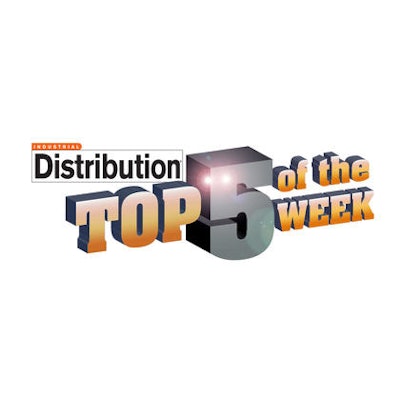 ​This past week on ID was led by our 2015 Salary Report, where readers come clean about their income and how compensated they feel for their duties. Other top items include our July/August Distributor Profile on Tulsa, OK-based BlackHawk Industrial, Jack Keough's take on Fastenal's Q2 earnings report, Part 2 of our Industry Insider video on Amazon Business' impact on industrial distributors, and a major overseas acquisition for Grainger.
Here's this week's Top 5:
Industrial Distribution's 2015 Salary Report: It's one of the most contentious areas we cover each year, and results are in for our annual Salary Report. We share the specific factors affecting compensation, including the satisfaction levels of our readers. Distributed via email, the 2015 Industrial Distribution Salary Report survey funnels respondents into three separate question pools based on where they identified their specific job functions. The results are based on three separate sets of data from Executives (Owner, Chairman, CEO, CFO, CIO, COO, President, or VP); Mid-Level (non-sales) Management (Product, Operations, Branch, Purchasing); and Sales Representative/Manager.
​Distributor Profile: BlackHawk Industrial: Read the story of BlackHawk's rapid rise in the industry, as it has become a $400 million distributor in just six years of existence. With a laid back culture led by CEO Bill Scheller, BlackHawk is just now starting to harvest the fruits of its framework labor, and is set for even bigger things in the years ahead. Most recently, BlackHawk announced the acquisition of Colorado's Jarvis Supply on July 10.
Jack Keough: Fastenal Facing Headwinds But Still Sees Growth: ID contributing editor Jack Keough weighs in on Fastenal's Q2 earnings report and conference call, which showed Fastenal reduced store count due to stiff economic headwinds caused by a sluggishness in the oil and gas sector, agriculture, heavy manufacturing, and the strong U.S. dollar. Despite those obstacles, Fastenal posted solid Q2 earnings, achieving sales of nearly $1 billion for the quarter.
Industry Insider: What Amazon Business Means For Industrial Distributors, Pt. 2: In our follow up to last week's discussion on Amazon Business' impact on the industrial distribution market, ID chats with contributing editor Jack Keough on how distributors' practices will be affected by it. We also discuss the results of Acquity Group's study on the changing behavior of B2B customers.
​Grainger Expands Abroad, Acquires U.K.'s Cromwell For $482M: Grainger announced on Thursday that it has agreed to acquire Cromwell Group and its subsidiaries for approximately $482 million. The transaction is to be completed in early September. Headquartered in Leicester, England, Cromwell is the U.K.'s largest independent MRO distributor, serving more
than 35,000 industrial and manufacturing customers worldwide with more than 80,000 industrial products and employing more than 2,150 team members. Cromwell's sales for its fiscal year ending Aug. 31 are forecasted to be $440 million, with the vast majority of sales in the U.K. EBITDA margins are expected to be approximately 10 percent. Grainger cites the move as an opportunity to grow its Zoro Germany business, as well as rapidly grow Cromwell's online sales.