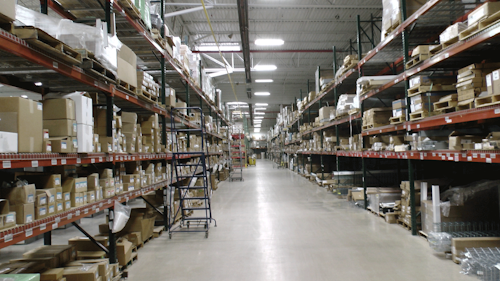 A dramatic jump in newly available warehouse space late last year apparently helped ease some of the heavy demand from retailers and shippers, a new report suggests.
Real estate broker Colliers International found that warehouse clients did not snap up newly available space in the fourth quarter of 2016 at the same rate as the final three months of 2015, The Wall Street Journal reported.
Colliers reviewed "big box" warehouses — buildings of at least 300,000 square feet — and found that newly built space in those facilities increased by 77 percent over that span but that "net absorption" by clients fell by 19 percent.
The vacancy rate in those spaces, however, inched up by just 0.2 percentage points to 7.7 percent, and observers believe that warehouse demand will remain strong amid the continued growth of e-commerce.
New large warehouse capacity increased by more than 10-fold in the past five years and climbed more than 7 percent in 2016 — "an all-time year," Colliers research director James Breeze told the Journal.
The slower rate of absorption could be due to increasing construction of warehouses without a specific client in mind. Although that trend could eventually relieve the pressure on rent, particularly in high-demand markets, analysts don't expect that to happen soon.
"I expect that demand to continue, but whether it will keep increasing at record levels, the capacity may not be there for such robust growth," Breeze added.